Creativity
Nicola Frimpong x Balans
Nicola Frimpong AKA FREEAKPONG is a British artist.  She works within watercolour and digital medium. Her subject matter explores themes of Sexuality, race, identity, historical and contemporary reference's.  She has participated in prestigious shows such as Royal Society Of British Artist, Christies London, The Saatchi Gallery, and Tate Modern. 
When you see her art in the real world the first impression is its size and intensity. Small but powerful, the works are only A4 – but incredibly rich in colour, emotion and detail.
There are two pieces are on display at Balans No.60 Soho. We had a chat with Nicola to find out more.
Balans:  When and how did you know you wanted to be an artist?
I believe I have always had a passion for art from a very young age, going back to nursery until now. I found myself always being creative in classes even when I wasn't in actual art lessons! I couldn't break away, even at break and lunch periods. The art just became an obsession and my identity.
Balans:  How did you find formally studying art
I was multi-faced at art school, being introvert, extrovert, good, bad, rebellious, weird, and popular. I struggled with the theory because of my Dyslexia and Dyspraxia.
At college, I did work on a big scale occasionally because they said it would be good for you, but I like the scale of small I feel very comfortable.
My work is very intimate and precious to me, it's like a mother and baby.  I'm remarkably shy but my work isn't.  It's bold, in your face.  My work is like my alter ego – I can hide behind it.
Balans:  What have you been creating over the last year or so, where and any changes you see in how you approach your practice?
I've been working for over twelve years as an artist now.  My work has always been quite universal I like to explore race, identity, sexuality, historical and contemporary subject matters. I believe my work has become very honest.
In Lockdown, I believe I was more creative.  Not being able to go out got my creativity going.  I focussed more on digital work.  I'm not conscious of colour and stuff, I'm not theory-based.  I'm very practical.  I have a very dyslexic brain.  I don't plan ahead that much.  I'm very, very messy as an artist.
I've had very mixed messages about my work.  My work can be ugly, but it conveys a really strong message.  It's out there talking about race, ageing, race, sexuality, violence, death, degradation.  In my personal opinion, my art is beautiful.
That's what affects us.  It's my inner reflection.  Crazy bizarre, traumatic, trashy art. 
Balans:  What was your inspiration/thought process for the works you have created for Balans
Balans was all new to me, but I did some digging and got a sense of them.  The characters are how I wanted to incorporate my vision of them, they are free, they are playful, they are liberal they are human beings.
I wanted to capture the reality, the colourfulness, the multiculturalism. I wanted to bring the rainbow to life! It's playful.  You, the viewer can read into it what they like.
For me, I work unconsciously, so I like to incorporate things about the world.  I don't think about what the viewer sees.  
The pieces don't have names. I guess I don't really talk about my work as I'm quite repressed but there is a very vivid colourful side. I like to flow, and I don't like labels. 
I'm really happy to have partnered with Balans and enjoyed doing them – they are very intense.  I wanted to do powerful paintings and give them life and essence. 
Check out more of Nicola's work on Instagram here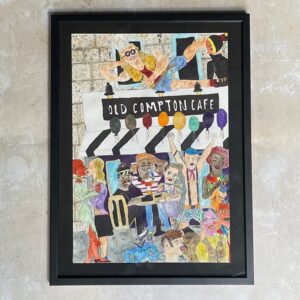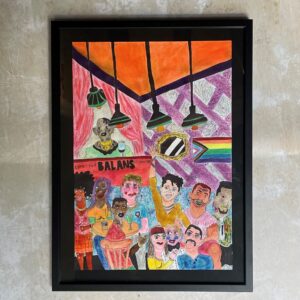 Posted on 10 December 2021 in
Creativity
and
No. 60
.