Creativity
The Pride of Celebration Artwork Collection at No.60
Pride of Celebration Artwork at No.60
Introduction:
We have been working with Artiq, a London based art agency, who have curated our fabulous new range of artwork to celebrate the month of Pride. In order to create a collection that both represented the decided theme of the Pride of Celebration, Artiq present a curation that is as bold as it is delicate. The range of works chosen is as varied as it is effective, with digital works sitting alongside more painterly canvases.
Artiq started in 2009 with a team of two. Today, it's a devoted, multitalented group of over 30 (and growing) that includes curators, consultants, designers, researchers, coordinators, and technicians, working on projects around the world.
In order to keep the feel of the front of the restaurant to a more coffee house style, the works here are light in colour and provide soft touches and sights of intrigue.
At the back of No.60, it turns to a more vibrant and playful aesthetic, with sleek and stylish works adorning the walls, reflecting the interior of the restaurant. These works are moments of fantasy, with dreamlike scenes and sultry tonalities pervading the space, providing an alluring and mystical collection of art that accentuates the interiors of Balans.
The new artwork represents a site of celebration, taking immense pride in the historical and contemporary success of queerness in London.
Artists
Phoebe Steer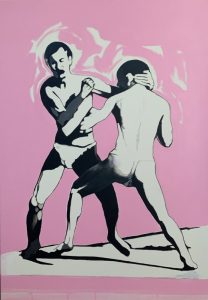 Using her vibrant colour palette and unique style, English artist Phoebe Steer focuses on a diverse range of subjects, from a mix of the historical and cultural to the people she surrounds herself within everyday life. Phoebe graduated from University of the Arts, London, with a focus on Fine Art. Her works are a blend of rich colours and dark shadows, creating a juxtaposition between the essence and movement of the characters she portrays and bold, expressive brush strokes. Interweaving traditional and modern approaches to painting, Phoebe studies the complexities of today's culture and human behaviour.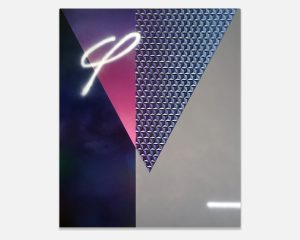 Charley Peters lives and works in London and exhibits internationally, showing recently at Saatchi Gallery, Z20 Sara Zanin Gallery in Rome and Art 2 in New York. Peters completed a PhD in Fine Art Theory and Practice and is now a Postgraduate Senior Lecturer at University of the Arts London.
She grew up in Birmingham, a concrete metropolis in the UK lit by neon signs and street lamps that glowed through air thick with car fumes.  In her formative years, her imagination was fed by Transformers cartoons, pixelated video games, heavy metal album sleeves and science fiction book covers. The works she does now are influenced by a mixture of things – growing up somewhere strange with a TV for company, the mess and chaos of the city, feeling small and voiceless in a big noisy world, the dynamism of Abstract Expressionism, the quiet precision of the hard edge, the everyday coolness of pop culture and the moody strangeness of teenage subcultures.
By remixing the things that she's consumed visually and putting them onto a canvas, she makes fantastical worlds where intuitive smears of paint co-exist with hard-edged geometry, and the language of Modernist painting meets the everyday aesthetics of screen culture to make something new but strangely familiar.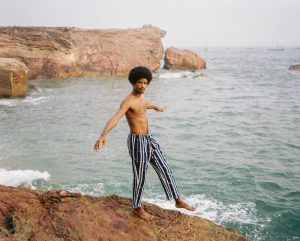 Kevin Anaafi-Brown is a British-Ghanaian photographer based in London. Kevin is inspired by the transportive power of images and his family home, which was littered with photo books and magazines, acting as something of a treasure trove for him at a young age.
'I didn't take a traditional route into photography, choosing an office job path instead, and it wasn't until March 2020 when I found myself with lots of free time that I started earnestly pursuing photography as a career' Kevin explains. His chosen medium is analogue photography and he often struggles to accurately articulate why he adores it so much. When shooting on analogue, there's often a large gap between the process and the reward, it demands patience and requires intention, subsequently forcing one to consider and influence every nuance of the process. It's also a very tactile art form with a unique intimacy. Anaafi-Brown's work is largely informed by his own experiences, blackness, queerness and gender, and trying to expand on their traditional experiences.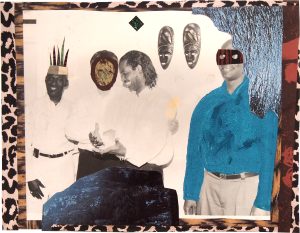 Mimo Mali is one of the most influential female contemporary artists of her generation. A true visionary, multidisciplinary, creative nomad of North African / German roots from Berlin. She is a graduate in sculpture, painting and visual communications. Mali has achieved international success in the art world with a unique, characteristic style. Her use of vibrant colours and geometrical shapes create a collection this authentic and notable. Through the use of forms , abstract pyramidal and triangular patterns and nuances that communicate different emotions, shapes and textures, her pieces serve as a vessel to enter a colourful cosmological dimension. Mali enjoys playing with visual imagery creating a conversation between materials, tone, movement and shape. Crafting creations of mystical, cosmic, tribal, funk and psychedelic style. Her mediums of choice include painting, assemblage, art installation, animation, collage, canvas work and large scale murals in public spaces. Her work celebrates the diversity in London, focusing on the black community and their interaction with their surroudings.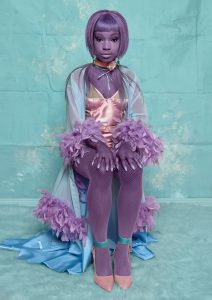 Carolina was born in Rio De Janeiro, Brazil, before going on to graduate at the London College of Fashion. She currently lives and works in London. Often working with minimal colour palettes, her pieces convey different messages through the use of colour, playing for example with preconceptions on "girly" pastels and idealised femininity. Through extreme colour blocking, Carolina immerses each character into the socio-sexual ideals specific to women with the intention of exposing and subverting them. Carolina's work was featured in Vogue Italy, Vogue Brazil, Vogue Portugal, Elle UK, Time Out Magazine and Swarovski among other publications and has been exhibited in art fairs across the UK and Brazil. Carolina's new body of work looks at subverting the gender stereotypes further, especially in the queer community. Her works have the gloriously bright and luscious aesthetic as her previous work, whilst addressing more pertinent topics.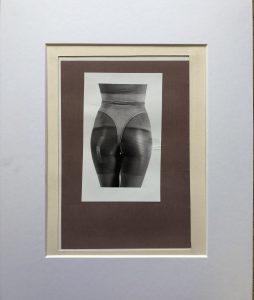 Marley Treloar is a first year PhD researcher at Coventry University exploring the development of participatory community practice between digital and physical spaces within cultural organisations. She graduated from Kingston University MA Museum and Gallery Studies in 2019 and has worked across the arts and heritage sector working as a freelance curator, public programmer and education officer. Marley is the creative director of Co-Curation, artist run curatorial collective exploring participatory, community and digital collaborative artistic practice. Using participation, installation and sound, Treloar's practice connects intimate moments of family, love and grief and confronts them with the ideals of an internet age.
Humour has always been a path to dealing with love and loss, and drawing on their own experience with family and personal relationships, Treloar explores their own stumblings and failings with a chuckle. If only to lighten the mood, just for an instant. With an interest in human behaviour, she smudges lines drawn between the public and private in our retelling of our lives and the exaggeration there of.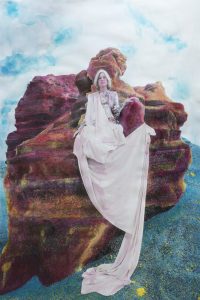 Clara Duranis is a synesthetic artist, born in Madrid and based in Bucharest. She graduated in Fine Arts with studies at Loyola University of Chicago and later completed a Master's degree in visual arts at the University of the Arts London. She is currently developing her PHD thesis in Fine Arts at UCM Madrid. At present, she holds workshops and circles for women that focus on the cycles of creativity and the artistic process. Her work investigates the union of the material and the spiritual in the experience with nature. She explores the extraordinary relationship between women and water – with a special interest in rivers – as well as the activation of the four elements in the imagination. She proposes photography through an open, interdisciplinary and experimental perspective that establishes connections with painting, poetry and sound. Thus, there different languages converge in the same artistic body and then sensorial, material, spiritual and symbolic dimensions are intertwined.
Clara's work is rooted within the celebration of the feminine body in the context of returning the gaze. Moreover, Clara has strong allyship with the LGBTQIA+.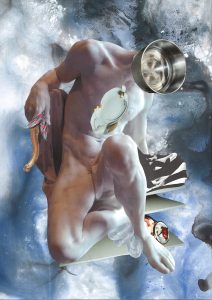 Enrico Nagel is German artist and illustrator from Berlin, currently based in Paris. As a self-taught artist, he specializes in collage art, creating mysterious and imaginative works by harmoniously combining thousands of images using both digital tools and traditional cut-and-paste techniques.
Experimenting both with digital tools and with old cut and paste techniques, he delights us with his beautiful imaginary world. Nagel's works have been showcased at international art fairs and exhibitions, including CADAF in Paris, Queer Frontiers in London, and Gallery Tart in Zurich. His artistic practice is characterized by the fusion of different visual worlds, resulting in new and enigmatic compositions.
Posted on 19 June 2023 in
Creativity
.