Creativity
Balans x Freya Hollingbery
At Balans No.60, there has been a trio of shelves that for a long while had various S&M nic nacs, which had started to look a little worn out. Artist, Freya Hollingbury proposed a meandering mosaic serpent could roam the space. We were intrigued.
Freya Hollingbery is a London based creative for whom sustainability and the poetry of putting found materials to new use is central to her work. Freya particularly uses recycled bottle tops to create mosaic artworks. The end pieces often consist of non-representational patterns with interconnected colours and forms describing a particular emotion, event or personal story. 
All the bottle tops used in this piece were collected over lockdown and tell a story of what happened over the year away from restaurants. This is an ode to those strange times and our resilience, also a celebration of now being able to drink them inside our favourite places. Take a look closer and see which bottle tops you think were your pick whilst we were in lockdown…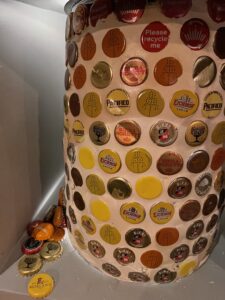 It has a carefully curated selection of warm hues, specifically red, orange, yellow, and bright gold, manifesting in the form of a snake. As this piece is set in a restaurant, Freya used the warming red to harness the excitement of the place and the strength and courage for those in view. The installation is part of the energy of the setting and people within the space creating their own moments, supporting unity and a new age post lockdown. 
The orange bottle tops represent enjoyment, playfulness and joy, connecting with Balans itself, fusing together with the rouge bottle tops and subsequently stimulating the palette. The touches of yellow evoke happiness, optimism and confidence, all feelings that resonate with the hope that we are entering a new phase of the past 18 months; a brighter, more uplifting state. The gold shines through for prosperity and prestige, acting as the sparkle of the Balan's team that keeps the place enticing and alive.  
All this combined into a snake-like figure oscillating in and out of the 3 niche summons of the wall represent characteristics of dedication, ingenuity and composure, virtues to aspire to whilst we evolve and move forward.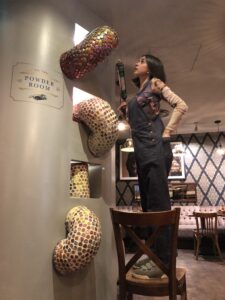 Posted on 16 July 2021 in
Creativity
and
No. 60
.