Creativity
Happy National Tree Day – celebrating Sapling Vodka
 Happy National Tree Day! Today we are celebrating the amazing Sapling Vodka, our most sustainable brand, whose main focus is planting a tree for every bottle they sell. We sat down with the founders from Sapling, Ed Faulkner and Ivo Devereux, to chat a bit more about their values and starting a sustainable business.
   What first gave you your inspiration to start Sapling?
        Ivo: We were running a tree planting project together off the West Coast of Scotland, and needed volunteers to help us. The best time to plant in the UK is between October and March, which usually means its freezing and rainy – especially in Scotland! So it wasn't the easiest thing to get people to volunteer for. We decided to throw a bit of a party, and rented some speakers, put on a cocktail tent and loads of people got involved. The next year it turned into a festival – we'd plant trees in the day, then drink together in the evening.
        We started looking for sustainable items we could stock the festival with. We managed to source sustainable loo roll, but not really any sustainable spirits. And we were having to import the vodka for our Bloody Mary's, which didn't really fit with what we were trying to do – so we started to plant one extra tree for every bottle of vodka we used. And then we just thought…why don't we just do this ourselves. And that's how the idea for Sapling began.
       To you guys what's the essence of Sapling?
     Ed: We created Sapling to have a positive impact on the environment and because we wanted to leave the world in a better place than from where we started. That's always at the core of everything we are trying to do and we constantly challenge ourselves to improve and do more.
        Ivo: We wanted to make the sustainability movement really fun and accessible for people – often it is about cutting back on something, but we wanted to show that it's easy to make a more sustainable choice. With Sapling you can make a greener choice while you're out drinking with your mates- it's that simple.
       Why is the tree planting side of things so important to you, why focus on this part of conservation?
        Ed: We've always loved volunteering for tree planting projects, so it has always been something that has connected us anyway. But trees are nature's answer to a lot of the climate problems, and there doesn't need to be any government policy changes or new technology to allow us to plant more trees. We can do it now! But trees don't just sequester carbon, they're incredible for biodiversity, for creating natural habitats for native animals, and especially in cities like London having trees and green spaces can help with mental health.
        Ivo: By planting one tree for every bottle of Sapling we sell, and because each bottle has a unique code on the cork so that you can track exactly where that tree is planted – it means we can be completely transparent about what we are doing and it also gives people something tangible that they can see as a result of the choice they have made in drinking Sapling.
       Tell us more about the process of the tree planting and how it works?
        Ivo: You'll have to come along with us in October to find out! It's simple really, we have a tree nursery down in Sussex where we grow a lot of native trees from seed and we can then take them to planting projects around the UK. We have also partnered with charities like Trees for Cities on urban projects, and also with local councils in London and Bristol.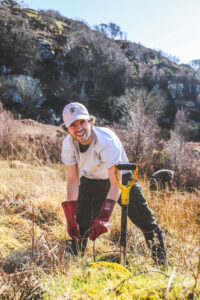 We love the design of the bottle – how did you guys come to this as the final product?
        Ivo: We didn't want to get in a bottle designer, as we felt it was more authentic and natural to do it ourselves. Our flat mate at the time was a graphic designer – he'd never designed a bottle before, but he was happy to give it a go.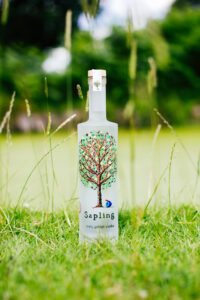 Ed: We'd like to say it took us months of discussions and different designs. But he came up with the design and nailed it in one go!
      What's the best way to drink Sapling?
        Ivo: I love it in a dry martini – 60ml Sapling, 15ml dry vermouth with a lemon twist. Or with seasonal British fruit and English Sparkling Wine in a spritz.
Posted on 1 August 2021 in
Creativity
,
Drinks
and
Provenance
.