Drinks
Genie Drinks: In conversation with their founders
When it comes to maintaining a healthy lifestyle, none of us are perfect. We try to keep active and make healthy choices where we can, but with all the guidance out there, it's sometimes hard to know where to start.
We chatted to gut-health advocates, Alex and Bill from Genie about their super natural sodas and some of the small, easy ways we can make big difference.
Alex:
Like many great things, Genie Drinks was born in a pub garden. In the summer of 2017, Bill and I were sitting in our local 'beer' garden. But it was a Tuesday and neither of us wanted to drink beer or any alcohol.  Nor did we want a sugary soft drink at that exact moment, or ever really. So… two warm tap waters it was.
Bill talked about the power of probiotics for gut health, and I told Bill about the tasty fruit sodas I had been making at home. And, as we sipped our tap waters, we wondered how we could create the perfect soft drink.
Two years later, working with gut health experts and nutritionists, 'Genie Drinks' was born.
Bill:
We think making healthy choices shouldn't be so difficult, and it shouldn't be a decision between what tastes good and what's good for your body. We wanted to create healthy sodas, so you can enjoy a sparkling pick-me-up that tastes great without worrying about added sugars, artificial flavours, or preservatives. We use natural ingredients, probiotic cultures, and vitamin-rich fruit juice so you sip away without worrying about any negative effects.
Gut health is our main priority alongside great taste. There is so much still to discover about our gut microbiome, but we know that the more diverse it is, the healthier people tend to be overall. It can influence so many parts of the body, not just digestion. It can have a positive effect on your energy levels, mental health, skin, and cardiovascular health just to name a few!
Alex:
We like to keep things simple. Even though a new diet comes out every few months, and everyone has their own idea of what a healthy diet looks like, we often refer to Michael Pollen's straightforward advice:
"Eat food. Not too much. Mostly plants."
This doesn't mean strict diets, zero treats, and hitting the gym every day, it just means everything in moderation and highlights how important plants are in our diet.
They provide us with a range of nutrients as well as prebiotics (from fibre). And although we all know that we should eat and drink more fruit, veggies, and fermented foods to maintain a diverse population of gut microbes – many of us just aren't getting enough.
Variety is the spice of life! Particularly eating a range of plants, which can be broken down by colour to make things easier. The more variety of colours on your plate – the better! Be it fruit, veggies, fermented foods and drinks, beans, pulses, herbs, or spices. Mix things up, try new things, and get those little wins where you can.
Genie has been stocked at Balans since they first started up in 2019. And we love a Genie along with a Moving Mountains vegan burger for a tasty, nutritious lunch.
The Moving Mountains burger has been praised by top chefs for offering a delicious, plant-based alternative, full of protein, fibre, and vitamin B12. And, Genie's award-winning kombuchas are made from fermented tea, so are packed with antioxidants, fermented cultures, and natural ingredients. This helps to boost your prebiotic and probiotic intake. All the good things your belly loves!
For a little win this lunchtime, pop in and see us and give this combo a go. Your tummy will thank you for it!
If you want to find out more visit:
https://geniedrinks.co.uk/genie-nutrition/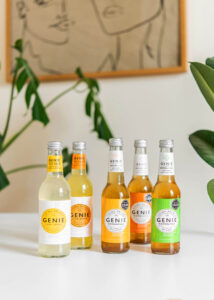 Posted on 22 June 2021 in
Drinks
and
Provenance
.